Bitcoin is becoming ever so popular these days. In fact, it has gained so much media exposure that scammers have decided to make this virtual currency their official "go to" currency. Such is the case with a new Bitcoin scam named "Bitcode Prime". When we received a tip from some of our viewers in regards to this latest get-rich-quick scheme, we were told that Akshay Phillips "Britain's Youngest Millionaire" was filmed on This Morning with Holly Willoughby and Phillip Schofield and explained how he used it to made his millions. After launching a small investigation, we noticed a fake "Mirror" website with links inside. These links are commonly referred to as "clickbait" and they are designed to get viewers to click on them and register for something else. In this case it is a get-rich-quick scheme.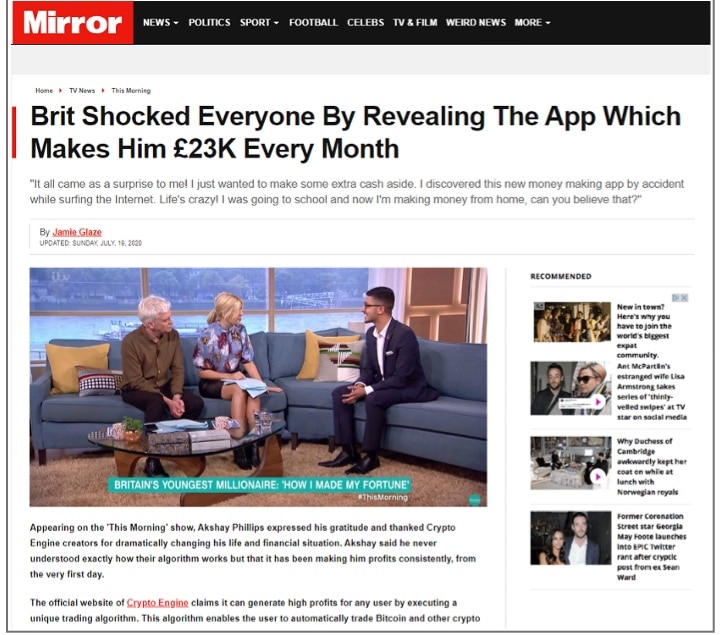 Why Is This Happening?
This trend is quite common and it's happening because people relate to celebrities or high-profile individuals and tend to believe them when they promote a product or service. In this specific scenario CFD (contract for difference) brokers are the ones who are accepting the victims, and the promoters who are referring them are affiliate networks or media agencies. Forex and CFD brokers pay huge commissions for paying clients, and as long as this incentive exists the trend will not stop.
How To Avoid Scams?
The best way to do it is by putting your thinking cap on and start asking the hard questions. For example, if the claims seem to be hyped up, or everything sounds too good to be true then it usually is. There is also the issue of performance checks and third party back-testing. If you are seriously looking into investing, then its best to do some proper research like we did. We searched for an honest Bitcode Prime review and found one here: https://scamcryptorobots.com/bitcode-prime-review-scam-trading-app/ after sifting through mountains of garbage and avoiding software like Immediate Edge, we were able to find one that seemed to be genuine. We recommend you do the same before you risk your money!